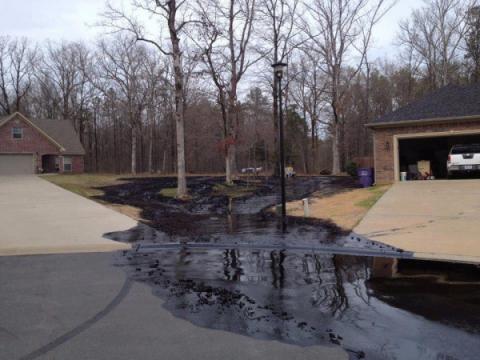 Keystone Pipeline; Nemesis to the Environment
Arkansas Neighborhood 2013
The Keystone Pipeline is a pipeline intending to connect the Alberta tar sands oil from Canada 1,661 miles to Nebraska.  
You can read more about this environmental catastrophe waiting to happen.
http://www.nhregister.com/articles/2013/05/11/news/e8f03529-6c34-4cab-9b4d-60910578b110.txt
Already people all over Canada and the US have been protesting this pipeline, but the Canadian government under Steven Harper is promoting it heavily to our government.
The US government has not yet approved this proposed project but is set to be decided upon it before the fall.
Do we really need anymore examples like this to stop this? Are any active rain friends from this area?
http://rt.com/usa/exxon-mobil-spill-mayflower-lake-303/
This womans plight to save her home and land from the pipeline is part of collateral damages we are already starting to see of questionable use of eminent domain.
http://thinkprogress.org/climate/2012/10/07/971651/keystone-kops-during-pipeline-protest-texas-woman-arrested-for-trespassing-on-her-own-property/
The state department has received more than 1 million comments about this proposed project, They need to get a few million more.
 Sign a petition here to have your voice heard. And share with your friends.
http://www.change.org/petitions/urge-the-senate-to-stop-the-risky-keystone-xl-pipeline
Image credit to 350.org
Keystone Pipeline; Nemesis to the Environment