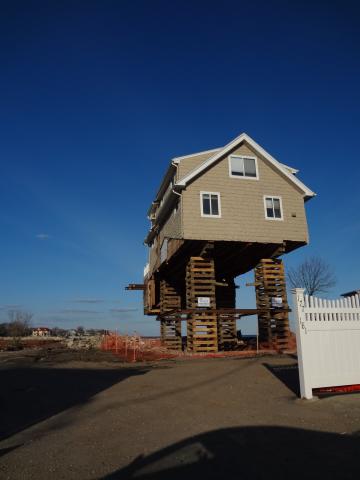 Hillside ave in Milford Connecticut has Started Rebuilding after Sandy.
Have you thought about moving to a beach town?
The last two years the homes in this waterfront community(and many others)  have been inundated by storms.  This past year flood lines have been redrawn for homes on our shore front communities. Some homes that previously did not require flood insurance may now require it after super storms Irene and Sandy.
Before you purchase your next home, make sure you get the new FEMA maps from town hall and check with your local friendly insurance agent. The town of Milford posted their new flood map online;
West side Milford, Connecticut
East side Milford, Connecticut
If your home suffered more than fifty percent damage you will be required to rebuild only to FEMA standards.  This means many homes will have to be elevated and use pile or pier foundations to resist future damage.  FEMA offers their guide lines for rebuilding.
Another good resource for information is FEMA's website.